Lalco Cafe's food is its heart and soul. It is the purpose for each day's opening of the doors. The menu is a single piece that incorporates our idea, décor, location, and culinary choices.
Lalco Cafe's entire experience gets built around a nostalgic trip, full of fun and wondrous flavours. . Our food isn't just to prepared to satisfy your hunger (although it definitely will do that); it's also made to provide you with an unforgettable experience.
Above all, we prioritize the needs of our patrons. In addition, we value versatility and flexibility. Our hope is our cuisine will create a lasting impression on you and make you want to return for more. Keeping this in mind, we frequently introduce new items to our menu.

New additions to the Lalco Cafe menu!
While we specialize in traditional Indian food, we also provide a wide range of other popular meals from across the world. If you have ever visited us or ordered delivery, you are probably aware of a our wide variety of multi-cuisine and even fusion dishes, where we combine styles from 2 or more parts of the world to create something new and spectacular. One of our best selling dishes, our Butter Chicken or Chicken Makhanwala Poutine combines the rich flavours of Chicken Makhanwala with French Fries in one a style reminiscent of one of Canada's most favourite and loved dishes, Poutine. What you may not realize is that we are always adding new items to the menu.
The LC Burger – While many countries claim to have originated the burger, from Germany to England to the US, the burger is traditionally a meat patty served between a bun with any variety of toppings between the meat patty and the bun. While traditional burgers might have been cooked with beef, at LC, our LC Burger has two scrumptious options, a Grilled Chicken Option, or a Vegetarian Option. Our burger has a juicy soft patty, with an option of our special home made sweet sour sauce or a spicy sauce on a soft toasted bun, topped with tomatoes, onions, lettuce and cheese. The LC Burger is of course served with the most traditional of sides, our very own crunchy French Fries.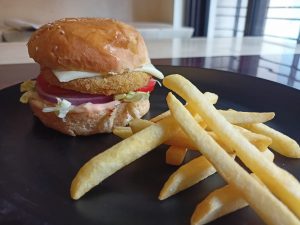 Pizzas – Along with burgers, Lalco Cafe now offers multiple pizza options. We have a Veggie Lovers Pizza, a Paneer Pizza and a Chicken Pizza. While all of our pizzas have some things in common, like our delicious home made pizza crust, marinara (tomato) sauce base, and perfectly selected mozzarella cheese, our various pizza toppings come in a wide range of flavors. It's a definite must-try!
Roll– In India, Rolls are the face of snacks. It's the epitome of what a snack ought to be. It's easy to eat, amazingly tasty and something you can eat right away or take with you on a trip or for lunch. Our Rolls are tempting & spicy stuffed with either Paneer, Eggs or Chicken and rolled into a flat refined flour roti (bread). On the LC's Menu we recently launched 3 new Rolls (a.k.a. wraps) with the hopes of adding even more in the future. Be sure to ask about our Special Offerings that change on a daily basis.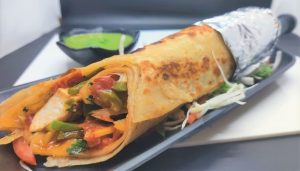 Conclusion
Please give us a call or order online via Scootsy or Zomato to get our newest menu items freshly delivered to you today.