A significant element of Indian Culture, any celebrations or festivals "Sweets are always a must". Any happy moments or maybe a "Shagun". We Indians believe in "Muh Meetha Karna" ( Anything we start, it's with sweets )

So the point is, whenever we get a chance to eat sweets we just grab this moment & change into this opportunity to eat sweets.
See….. Indians are like this…. 🙂
No need for any occasion to eat sweets, if you really love sweets, you will never look for a festival or any occasion.
And……..here's Lalco Cafe which gives you happiness with unbelievable sweets.
At Lalco Cafe, we understand the feelings that go along with tradition and classic delicacies. LC provides various exquisite sweets to delight your taste buds, making it the finest among other restaurants in Andheri.
Gulab Jamun
If you like Indian sweets, you'll know that there's a range of delectable treats to choose from, and Gulab Jamun is at the top of the list. In India, this traditional dish is the center of attention at every celebration and special event.Gulab jamun is an Indian dessert of fried dough balls that are soaked in a sweet, sticky sugar syrup. LC ensures that this sweet dish is genuinely excellent and adds soul to any gathering, whether it is your first time eating it or already aware of this delicious sweet.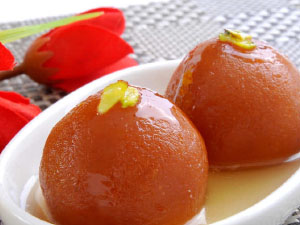 Shahi Tukda
Shahi tukda is a sumptuous, regal Mughlai dessert made of fried sugar syrup-coated bread, fragrant creamy sweetened condensed milk or rabri, and dried fruits. It's the ideal way to pamper your taste senses!
Kaju Katri
Kaju Katli, also known as Kaju Barfi, is a classic Indian delicacy prepared with cashew nuts, sugar, cardamom powder, and ghee butter and distinguished by its diamond form. Kaju katli has a silky, melt-in-your-mouth texture and subtle cardamom powder or rose water tastes. This delicious delicacy is frequently encased in consumable silver foil, symbolizing luxury and gratitude for our guests.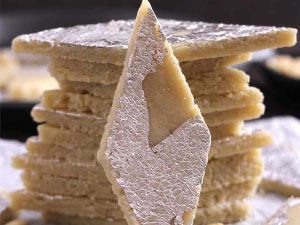 Rasgulla
Rasgulla continues one of India's popular culinary innovations, found everywhere from Kolkata's bylanes to Puri's temples to the power corridors of Rashtrapati Bhawan. It's a light and sweet mild cardamom-flavored syrup with melt-in-your-mouth soft and spongy cheese balls. Rasgullas from Lalco Cafe's chefs are impossibly good..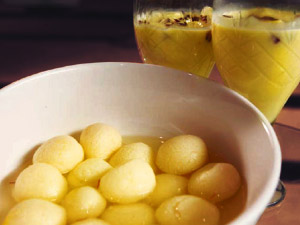 Motichoor Laddu
Motichoor Laddus are made from small doplets of fried gram flour, dipped in thick sugar syrup, and molded into laddus. In Indian pujas, Mootichoor laddus are frequently used. Motichoor Laddu is one of the delicious sweets to satisfy your cravings and raise your mood.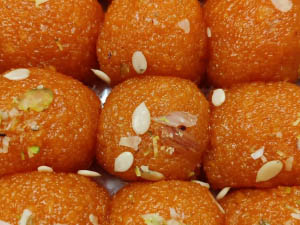 Conclusion
You can't go wrong with LC's delectable dessert selection. As one of Mumbai's top restaurants, LC accommodates your specific tastes and instantly boosts your mood not only during festive seasons but also any time when you feel joy around you, we are here to fulfill your joy with delightful sweets !!